Proper sleep requires a welcoming environment as well as good quality bedding, amongst many other factors. Recognizing the importance of what kind of bedding you use is very helpful to ensure a good night's sleep. While the right mattress and pillows can help you do this, paying attention to your bedsheets is vital. Here's how you can take a closer look at your sheets and avoid any trouble with sleeping from now on.
Thread Count
Being aware of the ideal thread count your sheets need to be made of is important. Let's begin from zilch – thread count is the number of horizontal and vertical threads included in each square inch. A bed sheet with thread count up to 300 is best suited for a tropical country like India. Anything that is higher than the mentioned number may cause it to trap heat in your bedsheets, making it hot and uncomfortable for you to sleep on.

Choice of Fabric
Certain fabrics enable you to enjoy relatively cooler temperatures than others. Thus, the choice of your linen could also vary based on the prevailing weather or the ongoing season around you. Synthetic fabric, for example, traps heat causing your bedding to feel much warmer than necessary if you live in warmer places. Living in India, 100% cotton sheets are your best bet. They are known to keep you cool despite it being warmer outside. So, opting for cotton will ensure a soothing and comfortable night of sleep, instead of tossing and turning due to uneasiness.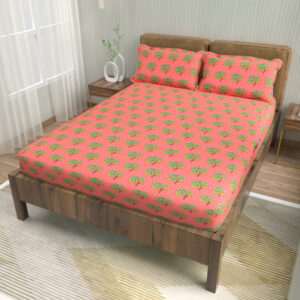 Shop from our wide range of 100% cotton bedsheets – https://pepsdreamdecor.com/bed-sheet
Linen Care
It is essential to take care of your sheets, largely because sleeping on them regularly naturally leaves your skin and hair residue on them. Washing your bedsheet twice a month in warm water will allow it to stay in mint condition. Further, you might want to pay attention to the detergent you use to wash them too. Certain detergents often consist of synthetic fragrances and other such ingredients, that can cause you skin irritation and hence, disrupted sleep.
Maintaining Aesthetics
Admit it or not, everyone likes having a certain look and feel be maintained in their bedrooms. While quality is undeniably a key factor, missing out on style is simply a big no-no! So, while you ponder over your final linen choices, do not forget to look for sheets that also match the overall aesthetics of your bedroom. Mismatched bedding accessories can throw off the alluring aspect of a welcoming bed and sleeping in it, at times. To avoid this, choose sheets with shades and designs that align with the other décor elements and colour palette present in your bedroom. This will surely enable you to enjoy a wholesome and comforting sleeping experience each night!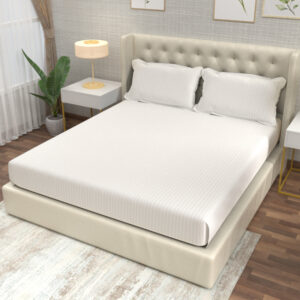 Shop for your linen from a variety of colours and prints – https://pepsdreamdecor.com/fitted-sheet