It is always nice to feel a nice breeze against your skin or pass by some fresh natural scents, right? With summers being here, it is only normal for anyone to experience the craving for being outside, amidst nature. While many of you might still need to stay indoors this summer, you can always welcome nature into your cozy humble abode! From house plants to natural textures like that of wood, there are plenty of options for you to explore while doing so! 

A touch of wood or bamboo
Incorporating a very natural element of nature, wood, is one of the easiest ideas to execute. Whether it is your couch or a center table in your living room or a bed or cupboards in your bedroom, opt for wooden furniture. If you are looking to incorporate the wooden texture without adding a big piece of furniture, then seating accessories like our stools would be the perfect match for you! Whether it is a bamboo log stool, natural wood or a black log one, you can pick and choose to match the aesthetics of the room you want it to go in.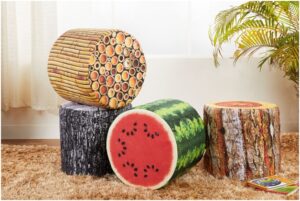 Shop our stools here – https://pepsdreamdecor.com/stools 
Nurturing house plants
Bringing in potted plants will not only add greenery in your home, but it will also bring along a refreshing feeling to be surrounded by. If you also plan on adding wood to the interiors of your home or already have, you are in great luck. The greenery will just effortlessly complement the wooden textures since both are integral parts of nature. Indoor plants add a lot of dimension to any room, so picking out different types will inevitably enhance the overall look of it any day! 
The beauty of natural prints
If you love plants, flowers or trees and want them to be a part of your everyday life, opting for décor with such prints would a brilliant choice to make. Focus on larger elements of your room such as your curtains or your bedding. If you have a big window, using a set of floral-printed curtains will instantly vibrance to your room. You may choose from pillow covers or bedsheets with leafy, floral or just nature-related prints for the same!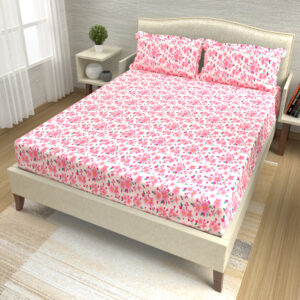 Shop your favorite floral-patterned bedsheets here – https://pepsdreamdecor.com/bed-sheet 
The scent of fresh flowers
A very cute and aesthetically pleasing idea for adding nature into your home is to have use real flowers. This can be done in two different ways, both adding the beautiful scents of flowers to your humble abode! One of them would be for you to get yourself some nice and colourful flower plants potted and grow them at home. You could decorate your balconies, windowsills, or your terraces with them. Otherwise, you could always choose to have a few vases spread across the rooms at home and bring in fresh flowers from the market once a week. Add some water, put in your freshly bought flowers and you are good to go!