Do you need a mattress protector? Yes. Of all the mattress accessories out there, a mattress protector is arguably one of the most important ones you should buy.
Catering to your sleeping requirement like using a quality mattress is crucial. However, what often gets neglected in the process is the importance of using a mattress protector over it. Not only do mattress protectors ensure a longer lifespan for your mattress in many ways, but they also eliminate the constant stress of accidental spills and stains. Our waterproof and quilted mattress protectors are built to save you from dealing with many such troubles while enjoying relaxing nights of sleep.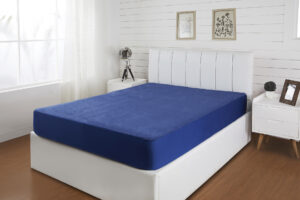 1.An affordable yet essential investment
Purchasing a good quality mattress is a substantial investment. So it is wise to protect your investment as much as possible. However, the life of your mattress can be increased with a protector covering it. The easiest way to protect your mattress is to invest in a high-quality mattress protector that perfectly fits your mattress.
2.Shields spills and stains
Without a mattress protector, you might undergo a constant fear of spilling things and even causing permanent stains on your mattress. Waterproof mattress protectors stand in the way of this. TPU lamination in our mattress protector prevent liquids from entering your mattress while terry on the surface ensures maximum comfort while you sleep. This safeguards your mattress even when your tickle sessions escalate a little and you end up tripping something over onto your bedding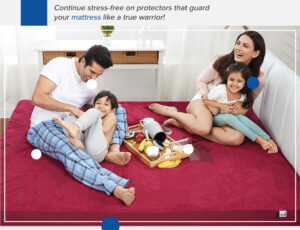 3.Mattress hygiene & maintenance
While most of them keep their bed sheets clean, but mattress hygiene is often neglected. Mattress Protectors from Peps Dream Décor come with a hypoallergenic layer, so you sleep worriless and in utmost peace. You spend 8 to 10 hours a day, On your mattress, so it's crucial to maintain your mattress hygiene. A well-maintained mattress requires proper cleanliness measures, which could be too complex as well as expensive. A mattress protector reduces the frequency and need of getting your mattress cleaned.
An unprotected mattress can be home to:
Bacteria, including E. Coli
Layers of dead skin cells
Sweat and fluid build-up
Airborne pollutants
Shop waterproof and quilted Mattress Protectors here – https://pepsdreamdecor.com/mattress-protector to ensure you are protected from such health risks.
4.Prevents odours from bed wetting & pet accidents
 Young children typically go through a phase of bed wetting at some point. This can result in stained bed sheets and mattresses that are left with an unpleasant odour. A mattress protector ensures your mattress is safe during such accidents. When it comes to pets there's almost nothing better than sleeping with them. A mattress protector will ensure no fluids, dirt & germs brought in by your pet spoils your mattress.
5.Protects from allergens:
 Dust mites thrive in warm, humid climates like your mattress and are one of the most common allergens people suffer from. Dust mites can lead to  nasal congestion, a runny nose, coughing, itchy skin, and asthma. A mattress protector keeps this at bay.
6.Sizing choices
Not everyone has the exact same size of bedding, which means you will need a mattress protector that correctly fits the dimensions of your mattress. Our mattress protectors come in different sizes and in a range of colors, so you can pick what suits your mattress. We also offer custom sizes that are specially made for your odd size mattress, Choose from a wide range of dimensions of mattress protectors and ensure healthy longevity of your mattress.