It is always a delight to be in a home environment that syncs with the seasonalchanges of nature. Since the pandemic has had people stay home for a large chunk of their days, being able to still enjoy these seasons from indoors is always helpful, physically, and mentally. And now that summer is here, the weather is inevitably changing a lot! Thus, being mindful of matching the tiny little elements of your home with this hot, sunny season shall prove to be both beneficial and fulfilling, for your lifestyle.
1: Switch to Pure Cotton Bedsheets
Summers mean the arrival of an overall hot weather, which can often turn things uncomfortable. And nobody likes to sleep in discomfort, right? So, make the smart and timely decision of switchingto100% cotton bedsheets this summer.Cotton is known for being a very breathable material that prevents excessive heat buildup, is gentle on the skin, and very soft to rest on.100% cotton bedsheets will make for a welcoming and soothing bedding that you will find yourself happily dozing off on, every summer night!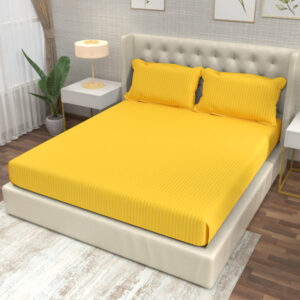 Choose from a wide range of our 100% Cotton Bedsheets here – https://pepsdreamdecor.com/bed-sheet
2: Use Complementary, Bright Colors
The sunny days of the summer season bring a lot of brightness into everyone's lives. But being indoors can cut this short unless your homes are just as vibrant and colorful! Getsome bright shades of pillow and cushion cover, to suit your ideal summery feels. Home décor pieces with summery prints such as fruity, floral, beachy, and other thematic designs, can also help you do this! Further, you can pick out funky colored seating pieces like quirky printed stools or neon-colored bean bags to add that pop of brightness in your bedroom or living room!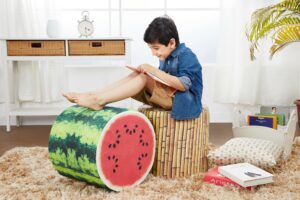 Choose from our quirky collection of stools here – https://pepsdreamdecor.com/stools
3: Add Thematic Wall Art
Many people tend to overlook the importance of the walls in their homes. While painting them different colorsaccording toevery season might not be feasible, using seasonal wall art is a brilliant idea! Gather your favorite summer pictures from the past, or simply pick out your favoriteart prints online and get them framed! Dedicate any entirely bare wall or a tiny empty wall space to your summery wall art and hang them up. It is an easy and simple yet an artistic idea to quickly enhance your home interiors this summer!
4: The Curtains Matter!
Curtains make more of a difference in the look and feel of a room, than most people realize. For people living in hotter areas, using black-out curtains can be very beneficial in blocking out the immense heat during summers. Also, using vibrant curtains or ones with fun prints can add a lot to the summerytheme you are going for. Curtains cover up ample space in a room, which is why focusing on them is beneficial during the seasonal redecoration of your rooms!