It is no secret that having a cozy space to live or sleep in, is very much appreciated. So, imagine being able to enjoy the same comfort without compromising on the stylish looks of your home. Whether it is your bedroom or the living space, cushions can accomplish both these goals very effortlessly. All you need to do is be mindful of a few points and voila, you will find yourself indulging in the beauty of your home every day in no time!
How many cushions?
When layering cushions on your sofa or even your bed, along with your pillows, 'how many?' is a smart question to ask! Just adjust the number of cushions you place according to the size of your bed or couch you're placing them on. On a single bed, one cushion along with a pillow or two can often perfect the job. On the other hand, if it's a larger bed or a 3-seater couch, using 4 to 5 cushions will tie together the aesthetic of your room.
Pick out stylish cushions for your humble abode here – https://pepsdreamdecor.com/cushion
Maintain the room's aesthetic
While picking and choosing from your favourite cushions, keep track of the overall feel of your room. Elements such as the colours, shades and patterns of your sofa set, or your bedding accessories also play a key role in this. Use cushions with prints that complement the aesthetic elements of your room and its existing décor pieces. This will take the beauty of your space up a notch, quickly. After all, the options are endless so explore and find the right pieces.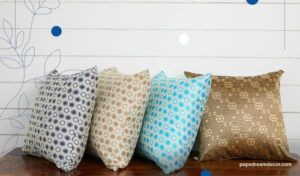 Invest in cushion covers
Another very clever trick to play while using cushions in your home space is to find the right cushion covers. If you love switching up the look of your rooms according to the nature's seasons or even specific occasions, having a little variety of cushion covers will always help. It will enable you to save some coins as you reuse your dedicated cushions with different styles and colours of cushion covers and revamp your space swiftly.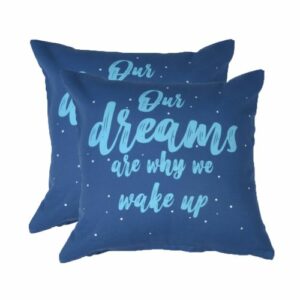 Grab your favourite cushion covers from our collection here – https://pepsdreamdecor.com/cushion-cover
Why the dimensions matter!
There is a reason why cushions come in various sizes – to fit your needs and requirements. Depending upon the area you're planning to add cushions to, you can always choose to layer it with different sizes of cushions. If you want some variety on normal-sized 3-seater sofa, you can use 5 smaller ones instead of 3 relatively bigger cushions. Further, you can also use 2 slightly bigger pieces along with 3 tinier ones. Similarly, you can spruce up the look of a single bed by just setting up 2 matching cushions, instead of placing just one, along with your pillow(s).